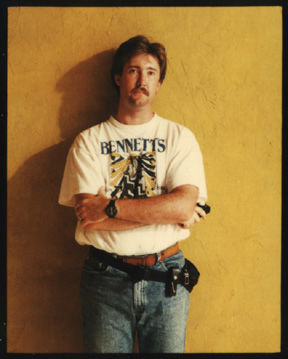 Benjamin Bennett–Full-Time Father, Homeschooler, Writer, Photographer, Web Designer, E-List Manager/Consultant and Founder of the original Peach Grove Press, now Peach Grove Press/eMedia

>Peach Grove Press was formed many years ago in Santa Barbara, California, as a means for publishing the work (postcards and calendars mostly) of the many students attending Brooks Institute of Photography.
>Today, Benjamin Bennett, Full-time Dad of three who also homeschools, is involved in many more things than just photography and conventional publishing.
>He is a self-taught web designer, bringing his talents from the photography and print publishing world, onto the world wide web.
>Ben believes that "surfing" a web site should be as easy and pleasing on the eyes as reading a book or magazine. You should be able to find what you are interested in, quickly, and without unnecessary (and often frustrating) "clicking around" for what you are looking for.

>eMedia is the digital side of Peach Grove Press. Ben will work with you, bringing the talented digital and image artists he has gathered to serve you.
>Peach Grove Press/eMedia will help you design a web site that is not only economical, but pleasing to the eye and easy to maintain and update.
Designing and owning a web site shouldn't be any harder than it really is.